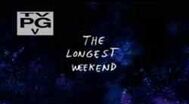 The Longest Weekend 
is the 12th Episode of Season 4 and also the 91th overall. It first appeared on Janurary 21 2013.
Synopsis
After seeing a Movie of "True Love", Starla challanges Muscle Man not to Make contact with her for a weekend to prove their love.
Plot
The Episode Begins with Starla, Muscle Man, Eileen, Margaret, Mordecai, and Rigby watching a Movie called "The Longest Weekend"; which is about a couple that are both wildly in love with each other. Mordecai and Rigby complains about the Movie, while Starla cries, as do Eileen and Margaret. After the Movie is over, Mordecai and Rigby continue to complain about the Movie, and Starla questions Muscle Man about their relationship until Starla challenges him to not to see her for a Weekend, Muscle Man tries to reject, but Starla finally convinces him to go with it, after this, the Guy's go into one direction and the Girl's go the other.
Characters
Muscle Man
Starla
Rigby
Mordecai
Hi Five Ghost
Thomas
Skips
Margaret
Eileen
Benson (Cameo)
Ad blocker interference detected!
Wikia is a free-to-use site that makes money from advertising. We have a modified experience for viewers using ad blockers

Wikia is not accessible if you've made further modifications. Remove the custom ad blocker rule(s) and the page will load as expected.